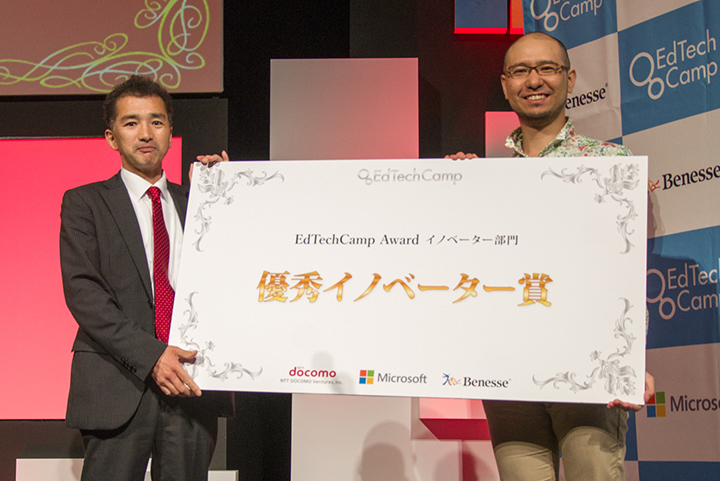 EdTech Camp Award took place on May 29 and in the "innovator department" Shunsuke was awarded the Excellence Innovator Award!
The two words "Education" and "Technology" were combined to as EdTech.
At the event companies like NTT DoCoMo Ventures, Microsoft, Benesse Corporation were co-hosting the EdTech Camp for the people who have and who are innovate using technology in education scene.
Presentation time was 5 minutes for each Speaker. Shunsuke used about half of the given time showing a video taken for his own daughter playing and creating with the new paintone.
Everyone was very impressed when they figured the girl of 2 years old is mastering the paintone, make happily works. It is a real great digital native generation. One of the judges comment "Please pass the trophy to daughter".
paintone that was showed here will be released soon! More information, click here! (to get a notice of the release, please register your e-mail address!)
That's not everything also at this event , at the "idea & Future Division" SHIKUMI DESIGN was a sponsor that presented an award called "mechanism design award". The award was given to a Mr. Taniguchi a student from Nagano National Collage of technology.
The proposed program GUI environment to create a questionnaire that can feed programming thinking of "Qaramell". We evaluated this program on how thinking happily using the friendly tool ! We were excited meeting such a thing for first time …! And looking forward to use it.
As for our new paintone, Please stay tuned!